Spices and condiments
CONFITURE L'ARDENNAISE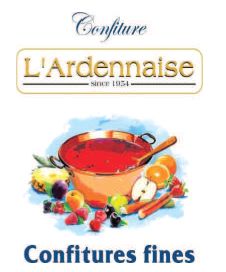 Person of contact
Amélie LAMALLE
COO
Phone: 32-(0)488160244
Contact details
Route de Marche, 2
4190 XHORIS
Phone: 32-(0)42289159
Fax :32-(0)43691269
company profile
Added Value
CONFITURE L'ARDENNAISE produces jams for over more than 60 years. In 2009 we invested in a new cooking system which allows us to cook our fruit under vacuum at a low temperature. With a condensator we regain the evaporated aroma's and we re-insert them in the final product. This gives us big chuncks of fruit, a nice color and an intens flavor.
Product range - Services / Brands / Markets
CONFITURE L'ARDENNAISE produces conventional jams (Vallée de l'Ourthe 370g) and jam with no added sugar (L'Ardennaise 250g). But we also produces these products with organic ingredients, our Pur Natur range. We also produce PL and we are very flexible concerning packaging.
Main references
Retail : Colruyt Group, Provera, Carrefour, Aldi B, Lidl B, PQ, AH but also wholesales like Trendy Foods, Ameel, Excellent Food group ….
Certification
IFS - Bio (Certisys)
Pictures