Bakery, confectionery and waffles
L'ECOPAIN D'IGNACE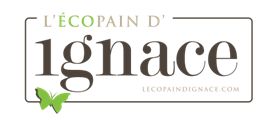 Person of contact
Stephanie VANDEKERKHOVE
Sales Officer
Contact details
Rue Ilya Prigogine, 3
7850 ENGHIEN
Phone: 32-(0)23970430
Fax :32-(0)23558569
company profile
Added Value
We do not add any colourings, enhancers, preservatives or other additives to our products. They are all made using the very best ingredients, selected for their pure, ethical and health-promoting qualities. Every day, we prove that passion, ecology and high-quality products can come together completely naturally.
Product range - Services / Brands / Markets
L'ÉCOPAIN D'IGNACE produces high-quality bread, pastries and fine bakery wares, either standard or organic. We also produce gluten-free bread and pastries.
Main references
Retailers, importers, food service.
Certification
IFS - ACS - BIO
Pictures