Bakery, confectionery and waffles
DELEYE PRODUCTS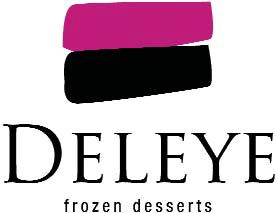 Person of contact
Els BRUNEEL
Company Manager
Phone: 32-(0)479659735
Contact details
Avenue Nadine Pollet-Sengier, 2
7700 MOUSCRON
Phone: 32-(0)56852429
Fax :32-(0)56843689
company profile
Company history
Deleye Products is a family firm founded in 1993 by Carlos Deleye. In 1997, the company moved its headquarters to Mouscron. It first began exporting its products in 2002, and in 2009, sixteen years after being set up, the company moved into new, much more spacious premises. The production unit is now equipped with the latest technology and machines in order to be able to continue to meet consumer demand for frozen desserts of an ever-higher quality.
Added Value
Deleye Products' frozen range is unique as the physical appearance and taste are equivalent to those of fresh products. Indeed, Deleye Products makes a point of only using fresh and high quality ingredients. For example, Callebaut chocolate, fruit purees (and not powder), real mascarpone from Italy ... are some of the ingredients used in the recipes.
Its team is made up of experienced and professional pastry chefs who still use traditional techniques; and this in an industry where automation has become the norm. Deleye Products can therefore truly claim to make hand-made products.
Product range - Services / Brands / Markets
Deleye Products offers a full range of traditional and innovative products. The standard assortment consists of a broad variety of products such as Bavarian creams, mousses, round cakes, individual cakes, mini desserts, cups filled in with different mousses, long bars, etc. Its products are sold via distributors, mainly to the hotel and catering industry, major retailers, supermarkets, cash & carries and bakeries. Its products are sold under the Deleye Products brand but also under Private Label.
Deleye Products currently exports to the Netherlands, France, Luxembourg, Spain, Germany, Switzerland, Finland, Norway and Iceland. It has recently started exporting to Australia and Canada.
Check our website : http://www.frozenelements.be/
Main references
Albert Heijn, Aldi, Bofrost, Carrefour, Eisman, O'cool, Lidl.
Certification
BRC
IFS