Bakery and confectionery
PMSWEET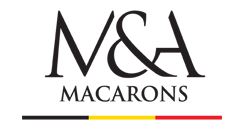 Person of contact
Labro Michaël
Manager
Phone: 32-(0)474352775
Contact details
43, Rue César de Paepe
4683 VIVEGNIS
Phone: 32-(0)43881908
Fax :32-(0)43881908
company profile
Company history
PMSweet creates and designs top-of-the-range artisanal pâtisserie for professionals working in gourmet food industries.
This is the story of two passions. Firstly, that of Michël Labro, a medical student who loved macaroons, moved from his kitchen to door-to-door sales, pushed and opened those of famous clients, created new partnerships and lamented the fact that macaroons were only available in sweet flavours, when savoury macaroons could also arouse and enchant the taste buds. In brief, his bold approach evolved into sweet and savoury pleasures.
Secondly, that of Philippe Lhoest, a gastronomy and agrifood industry professional who smiled enthusiastically, followed the lead of his young colleague and expanded sales nationally and then internationally.
It is the meeting between these two inventive gourmet entrepreneurs that brought their desires to life and now meets the demands of the most prestigious brands.
Added Value
- BELGIAN ARTISANAL PRODUCTION
- 100% NATURAL INGREDIENTS (INCLUDING COLOURINGS)
- QUALITY CERTIFICATIONS
- PRODUCTS WTH LITTLE ADDED SUGAR
- SWEET AND SAVOURY MACAROONS
- CUSTOM-MADE FLAVOURS
- YOUR CHOICE OF LOGISTICS (CFR OR DDP)
- MACAROONS - 12, 15 AND 20 GRAMMES
- DELIVERED FRESH OR FROZEN
- CUSTOMISED MACAROONS
Product range - Services / Brands / Markets
Our macaroons combine a crunchy meringue- and almond-based shell with a generous fondant ganache.
M&A MACARONS has also developed a range of savoury aperitif macaroons (fois gras and apple, white truffle and Piémont hazelnuts, duck and orange, goat's cheese, fig and thyme, etc.), whose shells contain a very low percentage of sugar, allowing the savoury cream to release its aromas.
M&A MACARONS also offers pre-packaged boxes. We deliver our fresh and frozen produce to distributors and purchasing offices around the world.
Main references
KaDeWe Berlin, Delhaize, P&G, Bruyerre
Certification
COMEOS SUPERIEUR
Pictures