Commercial and collective catering
BISCUITERIE J.L. BRICHARD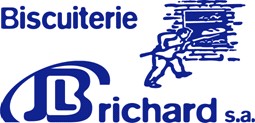 Person of contact
Olivier DONEUX
Managing Director
Phone: 32-(0)495254324
Contact details
Rue Guillaume Fouquet, 28
5032 ISNES
Phone: 32-(0)81402994
Fax :32-(0)81400234
company profile
Company history
The BRICHARD BISCUIT and Waffle Factory was created in 1969.
The business began by making and selling waffles.
Today, the Biscuit Factory sells a wide range of industrial waffles and pastries individually packaged and in family packs, as well as an extensive selection of biscuits, truffles and individually packaged chocolates.
Added Value
Brichard Biscuit and Waffle Factory responds to its customers' requirements by providing an extensive product range and outstanding customer service.
Our well-established logistics department enables us to deliver Brichard and distributor brand products throughout France and Europe with short delivery times.
Product range - Services / Brands / Markets
Liége waffles, soft, original or chocolate flavour waffles. Muffins, brownies, Madeleines, fruit cookies, frangipanis, puff pastries, turnovers, cakes etc.
Biscuits, truffles, chocolates. Target markets : Automatic distribution, Food Service wholesale, coffee roaster wholesalers, supermarket distribution, aviation catering.
Main references
AUCHAN, CORA, MESTDAGH, COLRUYT
Certification
HACCP / IFS / BRC
Pictures